Best Black Love Movies Of All Time!
So I thought I would compile a list of
'The Best Black Love Movies Of All Time' for you guys!
All of these movies display beautiful black love yet will have their high points and low points where nowadays we look back and think 'nah, that was actually hella toxic!' haha…
How times have changed…
But despite all of that, these movies were what we lived for at the time and any you have never seen you can definitely start a black love movie checklist for your Amazon Prime and chill (these aren't on Netflix) nights in with bae!
So here it goes, the best black love movies of all time ( in no particular order)
Sort by year or click the title to jump to description.
2000 ‧ Drama/Sport ‧ 2h 4m
"Love & Basketball" is about how you can either be in love or play basketball, but it's tricky to do both at the same time. It may be unique among sports movies in that it does not end with the Big Game. Instead, it's a thoughtful and touching story about two affluent black kids, a boy and a girl, who grow up loving each other, and the game.

Monica is a tomboy. Her parents and older sister despair of getting her to act like a girl. She'd rather shoot baskets. In 1981, when she's about 12, her family moves into a new house in Baldwin Hills, a good Los Angeles neighbourhood. Next door lives an NBA star and his son, Quincy. The first time the kids meet, they play a pickup game. Monica goes for a score, Quincy pushes her, and she gets a little scar that will be on her right cheek for the rest of her life.
They live next door to each other throughout their childhood and eventually go their separate ways as they head off to college. Both pursue basketball however their career paths look a little different… 'cos well, it's basketball…. and, she's a girl!
1995 ‧ Drama/Comedy ‧ 2h 7m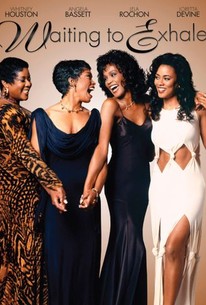 A surprise Hollywood hit, this film is based on the novel of the same name by Terry McMillan and centers on four well-to-do African-American women and their relationships with men and one another.

All of them are "holding their breath" until the day they can feel comfortable in a committed relationship with a man.
Robin (Lela Rochon) is the long-time mistress of Russell (Leon), who keeps reneging on his promise to leave his wife for her. She dumps him to find a man she can have to herself, but her dates with a reliable but unattractive business partner (Wendell Pierce) and a drug addict (Mykelti Williamson) send her back to Russell. Savannah (Whitney Houston) is a successful television producer who also believes that her married lover Kenneth (Dennis Haysbert) will leave his wife. Bernadine (Angela Bassett) is a wealthy woman who abandoned her own career to raise a family. Her husband is now leaving her to marry a white woman. Gloria (Loretta Devine) is a beauty salon owner and single mother raising a teenage son. After years alone, she falls in love with a new neighbor, Marvin (Gregory Hines).
The women share their stories over lunches and conversations at Gloria's salon.
2002 ‧ Drama/Coming of age ‧ 1h 49m
A woman wonders if it's just friendship or real love she feels when a close male friend announces he's tying the knot in this romantic comedy. Dre (Taye Diggs) and Sidney (Sanaa Lathan) became best friends when they were ten years old — the same time that both first became aware of the first rumblings of the Hip Hop revolution in New York City.
Today, Dre runs a successful record label, and Sidney is a respected music journalist; both have managed to turn their love for the music into careers, and both are still close friends. Close enough, in fact, that many of their pals wonder why they've never become boyfriend and girlfriend.
While both have always denied their attraction to one another, Sidney begins to have second thoughts when Dre proposes to his girlfriend Reese (Nicole Ari Parker), a lawyer. Even though Sidney has a relationship of her own with professional basketball player Kelby (Boris Kodjoe), as Dre's wedding draws closer, Sidney begins to suspect that her longtime best friend is actually the love of her life.
Brown Sugar has a Love & Hip-Hop type of vybe to it and so it definitely deserves a spot on the list of the best black love movies of all time.
Brown Sugar features supporting performances from real-life Hip Hop stars Mos Def and Queen Latifah; former basketball star Earvin "Magic" Johnson served as executive producer. ~ Mark Deming, Rovi
2001 ‧ Drama/Romance ‧ 1h 46m
"The Brothers" traces the journey of four African-American men as they take on love, sex, friendship and two of life's most terrifying prospects; honesty and commitment.
Smart, successful and sexy, Jackson Smith, Brian Palmer, Derrick West, and Terry White are "The Brothers" – lifelong friends banded together to weather love's innate terrors and occasional triumphs in this brazenly comic yet painfully true exploration of the battle between the sexes. Amidst the career track, basketball and bar hopping, "The Brothers" love women, as many as possible, but shocking revelation tests the foursome's friendship and changes their dating habits forever.
This movie displays black love  as a journey from the black man's perspective which is not the typical order in romance movies.
2000 ‧ Drama/Romance ‧ 1h 56m
Disappearing Acts has been called an urban romance. It is, in essence, simply another New York City love story, as funny as the best works of Neil Simon. Underneath the wisecracks, idiotic behaviour, and the foolish misunderstandings that qualify McMillan's novel as a romantic comedy there is a serious exploration of the nature of human relationships.

It is never easy for one person to love another; when two people differ as much as the lovers in Disappearing Acts, it is particularly difficult. Zora Banks is an educated, ambitious black woman, a gifted singer, and a songwriter who is supporting herself temporarily by teaching music in a junior high school. Franklin Swift is a construction worker with a high school equivalency diploma who for years has been thinking about going to night school and starting his own business. He has as yet done nothing about it. As Zora soon finds out, however, there is more to Franklin than his striking good looks and his talent for lovemaking. He is responsible; he does his best to support the wife from whom he is not yet divorced and the two children he had with her. He is generous; early in their relationship, he surprises Zora with three hundred dollars so that she can get her piano out of layaway. He is intelligent; even though he never finished high school, he can beat Zora at every word game they play. Moreover, in his attitude toward woodworking, Franklin exhibits the same kind of artistic integrity that he so admires in Zora.
Nevertheless, there are problems that the lovers prefer not to face. Franklin is easily discouraged and too easily sinks into apathy. Furthermore, the two are not honest with each other. When he loses his job, Franklin lies to Zora. In turn, she does not warn him about her epilepsy; he learns about it only when she has a seizure. Even more important, when she becomes pregnant with Franklin's child, Zora has an abortion without even consulting him.
Ironically, it is after Zora decides to go through with another pregnancy that the relationship reaches a crisis. Still haunted by the rejection of his own mother, Franklin sees his new son as a rival for Zora's love. Soon he is threatening Zora, and after she makes him move out, he comes back and breaks up their apartment, then gets drunk and takes cocaine. Yet when he has reached rock bottom, it is his love for Zora that motivates Franklin to change. After months of struggle, he returns, bringing Zora as a gift no less than his own life, which he has finally begun to set in order.
1994 ‧ Romance/Crime/Drama ‧ 2 hours
"Jason's Lyric" is a three-sided love story, but it's also a movie about the entanglements of the past. Directed by Doug McHenry from a powerful script by Bobby Smith Jr., this impressive debut has at its center the relationship between two radically different grown-up brothers. Jason (Allen Payne), the older of the two, is a soft-spoken, serious young man with an almost courtly manner who sticks close to home and takes care of his mother (Suzzanne Douglas). By contrast, Joshua (Bokeem Woodbine) can't stay out of trouble. An alcoholic with a sullen, explosive personality, he lurches from one personal disaster to another.
Early on, Joshua is just getting out of prison and Jason, as he has done throughout most of their lives, tries to put him under his protective wing. But as soon as Joshua is back out on the streets, he gets blind drunk and spoils his own coming-home party. Though Jason struggles to bring his brother into the straight life, it soon becomes clear that Joshua is beyond his help.
Under other circumstances, Jason might be able to simply cut Joshua loose and let him sink on his own. But the brothers are joined by tragic ties that cannot be severed. It is in laying out this bond between the siblings that McHenry shows his greatest sensitivity.
The family's problems began when the boys' father, Maddog (played with raging passion by Forest Whitaker), returned from Vietnam with a drinking problem. One night when he became violent with their mother, the boys came to her rescue, and a deadly shot was fired.
Smith and McHenry don't reveal which brother killed Maddog until the very end of the film, but considering how devastating the incident was to both their lives, it hardly matters who actually pulled the trigger. Overwhelmed by guilt and plagued by nightmares, Jason is so preoccupied with the past that he can't bring himself to dream about the future. Then he meets Lyric (Jada Pinkett), a self-possessed beauty who quotes John Donne and persuades Jason to leave home and begin a new life with her.
The emotional relationships here are so tangled and complex that an explosion is inevitable, and McHenry leads up to it with sure, tense steps. Lyric pleads with Jason to abandon Joshua, and Joshua, who is afraid that she will steal his brother away from him, responds with violent jealousy.
At one point in the film, Joshua explains why he drinks so much: "Booze is like garlic — it keeps the ghosts away." And in the end, "Jason's Lyric" is as much a ghost story as it is a romance or a tale of two brothers. Unfortunately, though, some spirits cannot be escaped — a point that McHenry makes with an assurance that is both convincing and heartbreakingly tragic.
1993 ‧ Drama/Romance ‧ 1h 50m
R&B star Janet Jackson made an impressive film debut in Poetic Justice as Justice, a hairdresser at a small salon in South Central Los Angeles. Justice uses her poetry to deal with her grief after her boyfriend is killed in a shooting incident at a drive-in.

Hired to work at a hairstylists' event in Oakland, Justice is stranded when her car breaks down, until she remembers that her friend Ieasha (Regina King) was going to hop a ride down to Oakland with her boyfriend Chicago (Joe Torry), a postal worker who is heading there with a truck full of mail. Justice tags along to discover that Chicago's driving partner is Lucky (Tupac Shakur), the postman who delivers mail to her shop and keeps asking her out. Ieasha and Chicago have to deal with their own rocky relationship while Justice has to decide if she's ready for a new love — and if Lucky is the man she's waiting for.
Along with strong work from Jackson, Poetic Justice features a surprising turn from Shakur, whose nuanced performance as Lucky is in strong contrast to his "Thug Life" public persona. Justice's poems were written by Maya Angelou, who also appears in a small role. ~ Mark Deming, Rovi
As I mentioned before, these aren't on Netflix but can be streamed on Amazon Prime Video
Try the 30-day Free Trial and then come and let us know your take on our list of the best black love movies of all time and if we missed any that we should add!